There are many components to your roofing system, all of which are an integral part of keeping your roof in top condition. Roof ventilation is just as important as shingles and leak repairs. Insufficient ventilation is one of the most common causes of roof rotting. The lack of airflow in an attic can cause moisture to build up and create a breeding ground for mold, mildew, and bacteria.
What is Roof Ventilation and Why is it Important?
Your roof needs vents to keep the air flowing. Without proper roof ventilation, there are several things that can go wrong. Roof ventilation allows air to move in and out and circulate through your attic.
Vents in your roof also help keep moisture and condensation from building up. They keep air flowing and help the home not overheat, help with rising energy costs, and help to prevent rot from settling in.
Just like how your roof provided protection to your home, the air vents in your roof are there to help protect your roof. These vents help with temperature control.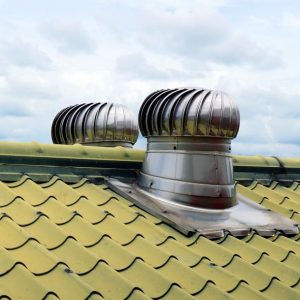 How Does Insufficient Ventilation Contribute to Roof Rotting?
Without proper ventilation or poorly installed vents, your roof can suffer in several ways. One of those dangers is roof rot. Condensation is present in your home, even if you live in a dry climate.
Moisture and heat rise, so the condensation will start to build up in your attic. It comes from the laundry room, bathing and showers, cooking, and any time you run your water.
Condensation forms when the warm air hits a cooler surface, like the ceiling in your attic. Without ventilation, it has nowhere to go. This causes mold, and mildew, and can eventually start to eat away at your roof, walls, flooring, and more.
Once it seeps in and your insulation and the underside of your roof start to get damp, there can be a lot of damage long before you are even aware of it. These molds and mildews also create unhealthy air that you breathe in.
How to Identify Signs of Rot in Your Roof and Prevent Further Damage
Bad Odor
Odor is a likely candidate. The smell of mold and mildew in your home is an indication that there is a problem. If you are unable to find where the odor is coming from, then call your roofing contractor to inspect your roof.
If you are noticing damp patches on your ceiling or walls, then you likely have an area of your roof that has rot and is decaying.
If there is an obvious dip in your roof or even inside your home, call your roofing contractor right away. You may even notice pools of water on your roof after rain.
Broken, missing, or crumbling shingles are a sign that they no longer have anything underneath them to keep them secure on the roof.
Along with regular inspections, keep your roof well-maintained. Keep the roof cleared of any debris, like dead branches, leaves, or other items that may have blown up there.
A regular inspection will not only help find potential damages, but your roofing contractor will be able to let you know if you have proper ventilation. A regular inspection is the best defense against a rotting roof.
What Are the Best Options to Avoid Insufficient Ventilation on Your Roof?
Depending on the type of home and roof you have, the first logical step is to have your roof and ventilation system inspected. From there, your roofing contractor will be able to make recommendations.
If you don't have ventilation or it's not doing a proper job, they may need to add more ventilation. They may add natural ventilation, like a window or a ridge vent.
Ridge vent installation is quick and easy for your roofing contractor to fit and they are covered by a shingle cap so they don't show. These are a very popular and effective way to add extra ventilation to your roof and home.
The Benefits of Properly Installing a Ventilation System in Your Roof
The health of your roof is very important to the health of the rest of your home. Proper airflow is vital for keeping your roof dry and free of damage. The moisture will build up and this needs to be avoided.
Roof ventilation helps prevent excessive energy bills in both the hot and cold seasons. In the cold weather, hot air rises and can then freeze on your roof. The hot air rises, add moisture, and will cause you to run your AC much more and much higher if the air can't escape.
Contact us today for more information or to schedule a roof inspection.