Roof maintenance is one of the most vital things you can do as a homeowner. A properly maintained roof will protect your home from the elements and last for many years. Unfortunately, many neglect their roofs until it's too late and need expensive repairs. This blog post will tackle the importance of roof maintenance and why you should hire a professional roof expert to take care of it.
What is Roof Maintenance?
Roof maintenance is inspecting and cleaning the roof to ensure it is in good condition. Consistent maintenance can help prolong the life of the roof, as well as improve its appearance. Checkups must be completed once a year and more frequently if the roof is in a region where there are high winds or heavy rains.
During an inspection, the roofing contractor will look for any signs of damage, such as missing shingles or leaks. They will also check to ensure that the roof ventilation is adequate and that there is no build-up of debris on the roof. After the inspection, the contractor will clean the roof, removing any accumulated leaves or twigs. In some cases, they may also need to apply a new coat of sealant to protect the roof from further damage.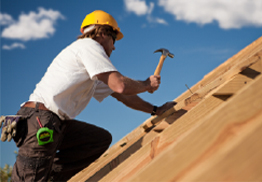 Why Is Roof Maintenance Important?
There are several reasons why roof maintenance is essential. Let's discuss what these are:
1) Catches Minor Issues Before They Become Large Ones
An area that is often neglected is the roof. While it may seem minor, regular roof maintenance is crucial to keeping your home in good condition. You can avoid costly repairs by catching minor problems early on.
For example, worn shingles can be replaced before they cause leaks, and damaged gutters can be repaired before they cause water damage to your home's foundation. In addition, regular roof maintenance can help extend your roof's lifespan. With the right care, your roof will be able to withstand the elements for years to come.
2) It Can Help Keep Residents Safe
Just like any other part of the house, the roof will suffer wear and tear over time. Left unchecked, this can lead to severe problems, such as leaks, structural damage, and even collapse. That's why it's crucial to have a professional inspect and maintain your roof regularly. Taking care of minor issues before they become big can protect your home and your family from the dangers of an unstable roof. So don't wait until there's a problem with your roof to call a contractor. Regular maintenance is crucial in making your home safe and sound.
3) Helps You Save Money
By inspecting the roof regularly and promptly fixing any problems, you can prevent more severe damage. This will save you money by prolonging the life of your roof. In addition, regular maintenance can also help to improve the appearance of your home and increase its value. So, if you're looking for ways to save money on your home, add roof maintenance to your list.
DIY Roof Maintenance
As a homeowner, you can be tempted to save money by maintaining your own roof. However, this is not recommended. Roof maintenance is a complex task that requires the expertise of a professional. Attempting to do it yourself could result in further damage to your roof and void any warranties you have on the materials. In addition, inexperience can lead to serious injury. So, save yourself the trouble and leave roof maintenance to the professionals.
Expert in Roof Maintenance
Now that you're aware of the significance of roof maintenance, it's time to find a reputable contractor to take care of it. When picking a roofing contractor, do your research. Request referrals from friends or family and take note of online reviews. In addition, be sure to get quotes from multiple contractors before deciding. By taking the time to find a good contractor, you can rest assured that your roof will be in good hands.