Different types of roofing materials work better for different reasons. Climate and cost are often the most popular reasons people choose the type of roofing materials they do.
With so many options, how do you decide what is best for your roof? Whether you are building a new home or looking for roof replacement, there are certain benefits that come with asphalt shingles for your roof.
What Is an Asphalt Shingle Roof?
Asphalt shingles are the most popular type of shingle used for roofs, and for good reason. They are affordable, versatile, and easy to install. They are durable and are available in many sizes, shapes, and colors.
Asphalt shingles are made out of various durable materials and have multiple uses. It is used for roads, airport landing strips, bicycle lanes, and many other surfaces.
It is waterproof and durable, and there are many different types of asphalt, made to suit its purpose. For roofing purposes, it is the ideal choice for all roofs and climates.
How to Choose a Quality Asphalt Shingle Roofer in Your Area?
Finding a roofing contractor in your area won't be difficult. Finding a good one, however, will require a bit of work. There are a lot of aspects you need to consider when looking for a roofing contractor.
You should always get an estimate from several different contractors to make a more educated decision. As tempting as it is, try not to base your entire decision on the cost.
Get Recommendations
Start by getting a few names from people you trust. Ask a neighbor who may have recently had some roofing work done, and ask family and friends. Once you have a few, start checking out their reputation.
Check their websites and independent forums and reviews. People will be more honest about the work and service they received. Of course, the roofing company will only post rave reviews.
License and Insurance
This information should be posted right on their website but don't be afraid to ask about it anyhow. If the contractor doesn't have insurance and something goes wrong or someone is injured, you will be responsible.
Certificates and Training
A general contractor or a roofing contractor who works independently may hire subcontractors to do a lot of the work. You will have no idea if they have even been on a roof before, so make sure they have proof.
Experience and References
You can ask how many asphalt roofs they have worked on or installed. They should have a portfolio to show you and a list of previous clients that they worked with. Be sure to ask for and call their references.
The Right Asphalt Roofing Material for Your Needs
Asphalt shingles have been around for a long time. Organic asphalt shingles are made of recycled paper, asphalt,  and other substances to form a flexible yet sturdy shingle.
Newer ones can have fiberglass components. They contain less asphalt and are lighter, heat-resistant, and less expensive. They also tend to stay in place better as the edges won't lift as the organic ones will.
There are different components to asphalt so it will depend on your climate to which ones will suit you best. Newer shingles can also be solar-reflective that help with energy costs.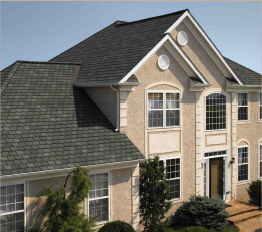 5 Reasons Why You Should Consider Installing an Asphalt Shingle Roof on Your Home
Asphalt shingles are the most popular choice for roofs, and it is no surprise why. Talk to your chosen roofing contractor about why asphalt is an excellent choice.
Affordable
Cost is always a factor when considering a new roof. Readily available and available in a multitude of designs and colors, with an attractive price tag make asphalt shingles the first choice for many homeowners.
Asphalt shingles are built to withstand heat, wind, ice, rain, and the freezing and thawing cycles that can cause damage to roofs. With heavier shingles, you can expect them to last upwards of 50 years.
Asphalt shingles are very easy to install. If there isn't any damage to the roof deck, the new shingles can be installed right over the old ones.
Because asphalt shingles are so strong and reliable, they don't require a lot of time-consuming and expensive maintenance. With regularscheduled professional maintenance, you can rest assured the shingles are doing their job.
With technology today, asphalt shingles can be made to look like any other materials you may want. They can look like ceramic, wood, slate, and custom designs to match the style of your home.
Asphalt Shingles
It's hard to beat the price, the variety, and the availability of asphalt shingles. For more information, contact us today to learn more or get an estimate for having asphalt shingles installed on your home.